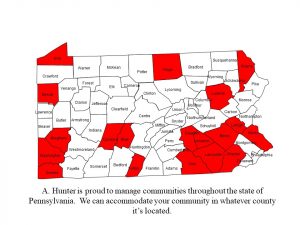 A. Hunter Property Management, Inc., was incorporated and started by Lisa Stewart-Miller in 1995. Lisa had worked for a large property management company and began the Manufactured Home Division when the company began managing communities. Management of these communities was different than all other real estate. After setting up and running the division Lisa had a daughter and decided that she wanted to be home with her, not just dropping her off at daycare in the morning and having dinner with her in the evening. That's when the decision was made, she was going to start A. Hunter Property Management, Inc.
23 years later and A. Hunter is going strong. We are one of very few companies that SPECIALIZE IN THE MANAGEMENT OF MANUFACTURED HOME COMMUNITIES IN PENNSYLVANIA. A. Hunter manages over 2000 sites and continues to grow. We pride ourselves on knowing this industry inside and out, as that's all we focus on.
A.Hunter deals with every aspect of managing and running a manufactured home community! We have worked diligently to assure that your community thrives daily. We have a strong system for inspections, we deal with the tax offices, and we work hard to assure that all of the daily operations of your community are running smoothly. We handle your community as if it were our own. Its our priority to satisfy YOU!
We are happy to say we have the same owners/communities that we started with 23 years ago.
A. Hunter has recently branched out and obtained our Dealership License through the State of Pennsylvania to sell manufactured homes. This is a big step and we are very excited. Our focus is to help our owner/communities get their communities up to 100% occupancy.
You will find A. Hunter to be loyal and dedicated and we will do everything it takes to make sure your property is running and profiting as it should be.
A. Hunter continues to stay on top of the industry. We are very involved with PMHA, attending trainings, and continuing to learn every day. We are on top of the abandoned home procedures and have even attended the trainings on installing homes. We never stop learning so we can provide you with the best possible services.
We can provide you with a care-free solution to rental/income property ownership by handling the routine operations and challenging day-to-day dynamics of owning and managing a manufactured housing community.
This will free up your time and allow you the flexibility you've always desired to focus on other important responsibilities, or to simply enjoy some well deserved time off. A. Hunter Property Management, Inc. will provide you with the confidence of knowing your business investment is being handled effectively and efficiently and yet is easily accessible to you when needed.
Imagine having a buffer of experience between you and the everyday problems of community ownership/management. A liaison relationship that will enable you to finally enjoy the benefits of your investment and peace of mind ownership.